Burn Music
From SoundTaxi
SoundTaxi additionally provides you with an easy to use and reliable CD Burner. Just a few clicks and your favorite music will be burnt to CD. So, How to burn music? Please follow these easy steps:
Step 1
First of all, please open SoundTaxi settings, find "Encoder for audio files". You can select MP3, M4A (MPEG4 AAC), or WAV output format from the drop-down list. MP3 audio format is nearly universally supported by many devices. WAV files are the best decision for burning to audio CD because the sound quality is lossless.

Also you can select a desired "Compression Quality" for MP3 and M4A files from the drop-down list. The highest compression quality is 320 kbps, but if you need to reduce the size of converted files – 170 kbps is the optimal value.

Close the settings by clicking "OK".
Step 2. Select the files for conversion
To add your files, click "Select Files" button in the program window and choose desired files for conversion.
Another way to add your files is to drag-n-drop single files or entire folders from Windows Explorer to SoundTaxi window.
Step 3
After you have converted your song with SoundTaxi, you can burn your music to CD. Insert a blank disc into your CD drive. Select the converted files you wish to burn and launch the CDBurner tool by clicking the "Burn" button in the program panel. Select the output disk type - either "Audio CD" or "MP3 CD" (data CD). Choose the desired "Disc Label". Select your disc drive from the drop down menu.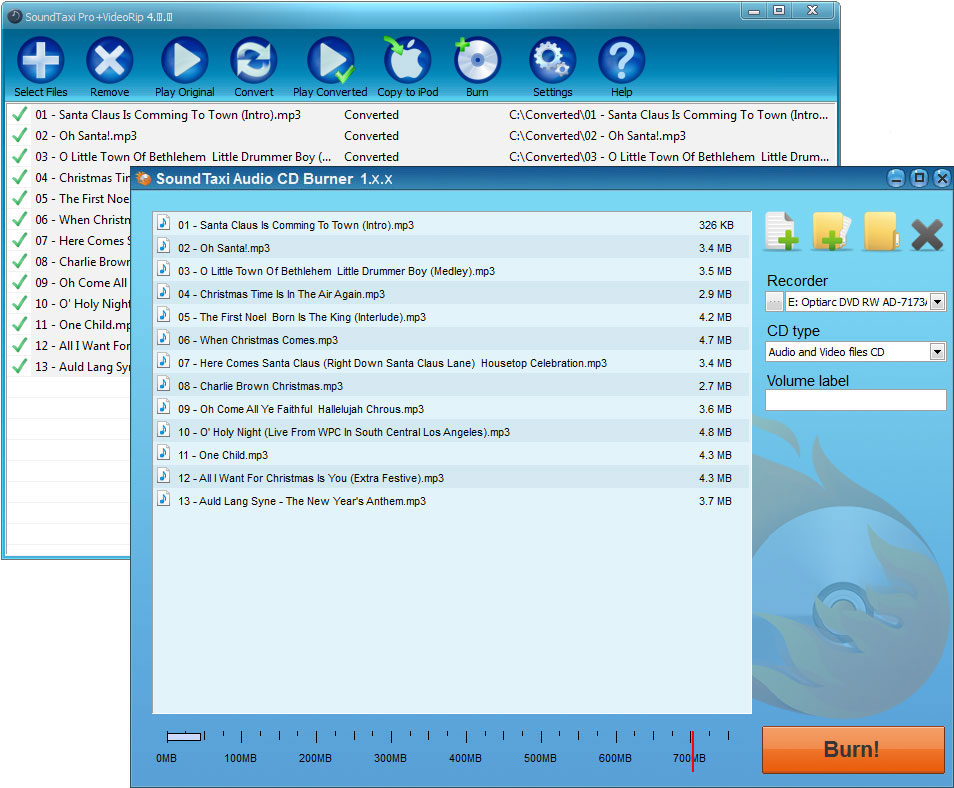 Click "Burn" to start the burning process.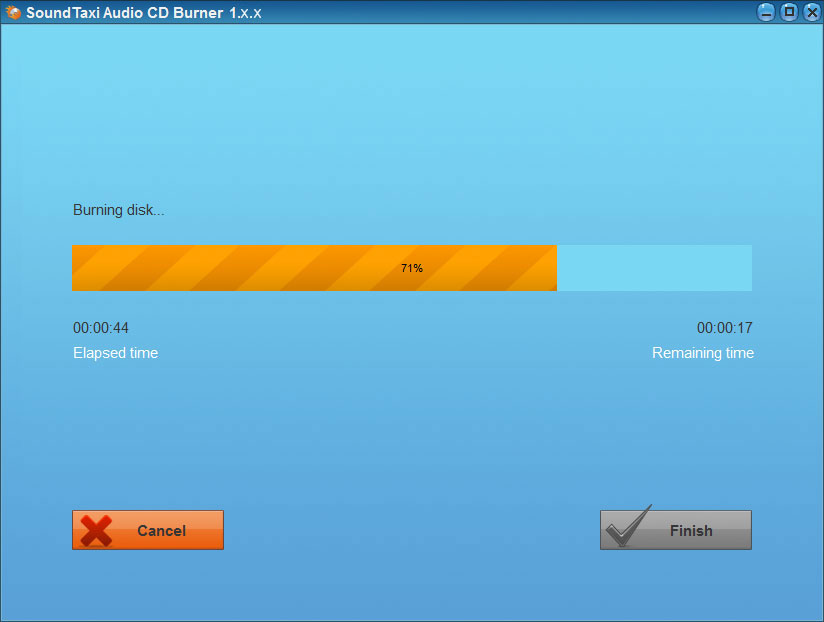 Once the burning process is completed you can enjoy music CDs.
Note, you need SoundTaxi Professional or SoundTaxi Pro+VideoRip edition activated to use audio CD Burner.