Burn Music to an Audio CD
From SoundTaxi
Introduction
Often you might want to burn music to an Audio CD for listening to it on devices that only support Audio CD format - like car stereo, your home theater system, etc. With the help of SoundTaxi, not only can you convert your music / video files to any audio format, but you can also burn them to an Audio CD with a few basic steps. Ripping / burning Audio CD features are available in SoundTaxi editions - Professional and Pro + Video Rip.
Make sure that music files you plan on burning to an Audio CD have a valid playback license on your PC. If the files can be played on your PC, the burning process can be performed quickly and easily.
Get the latest version of SoundTaxi
Get the latest version of SoundTaxi from out official web-site, to ensure smooth operation. Download it from here. Latest versions contain bug fixes and performance improvements resulting in a better experience.
Select the files you need to burn to an Audio CD
You can add single files, entire folders or drag and drop files to the SoundTaxi program window and convert them to a format of your choice. After the conversion is completed, click the "Burn" button from the SoundTaxi top menu.

A new window titled "SoundTaxi Audio CD Burner" will open with your converted files already queued for burning. You can add /remove additional files or folders to / from the CD by clicking the respective icons, as long as the files fit on the disc. You can also add "CD Artist" and "CD Title" information to the CD. After you are done making your customizations, press the Burn button.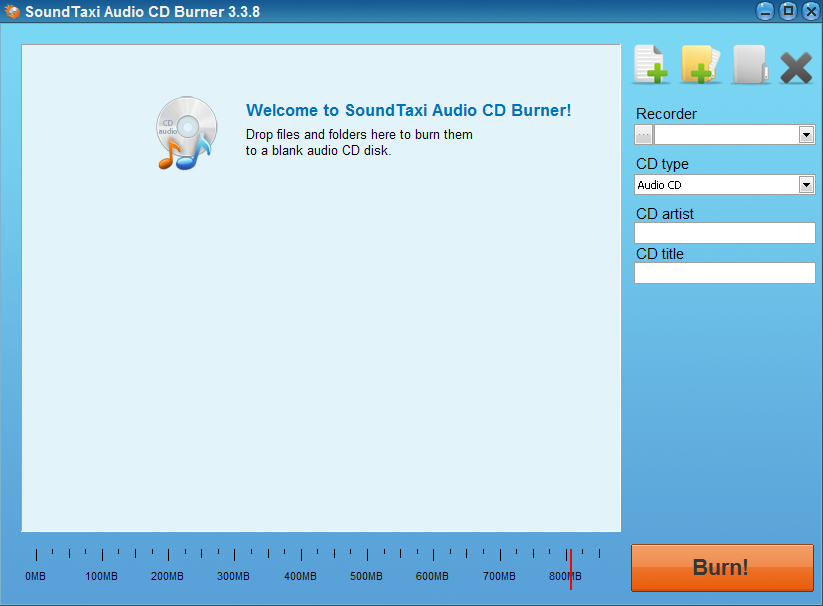 Audio CD is ready
SoundTaxi will start burning your files to an Audio CD an notify your on the progress. Once the Audio CD is successfully burned, you will receive a notification message.
From there, just click "Finish" and enjoy your newly created Audio CD on any compatible device!