Paramètres de SoundTaxi
From SoundTaxi
SoundTaxi Settings Review
To open SoundTaxi Settings please click "Settings" button in the program window.

Please configure SoundTaxi settings according to your needs before you start converting.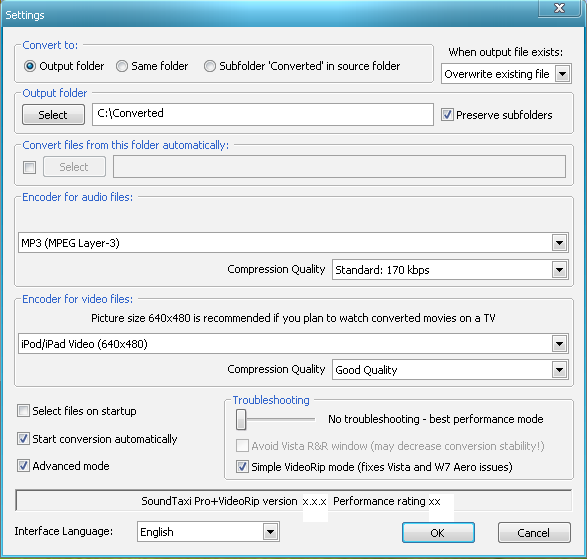 Converted files location
Choose where you want SoundTaxi to save your converted files.

"Convert to". Choose the folder you want to save converted files to.
If you select "Output folder", your converted files will be stored in the output folder set in Output folder field below. Use button "Select" to choose the output folder on your PC or just type full path to this folder in the field.
If you select "Same folder", the converted files will be saved in the same folder with the original ones.
If you select "Subfolder 'Converted' in source folder", your converted files will be placed to subfolder 'Converted', located in the folder with the original files.
"When output file exists" chooses the action with duplicate file names. To avoid replacing already converted files there are the options "Don't convert file" and "Create unique name". To replace already converted files there is the option "Overwrite existing file" (for example if you want to reduce bitrate of the file). It's impossible to replace original files with converted ones (even if you choose "Same folder" in "Convert to" group).
If you mark "Preserve subfolders", the full path to your original file will be re-created in the folder set in group "Convert to".
If you mark "Convert files from this folder automatically" and set the folder location in the field, all files from this folder will be enqueued and converted after program starts. So you can copy all files you need to convert to this folder and SoundTaxi will convert them automatically.
Encoder for audio files
Encoder for audio files defines the output format for your original audio files. You can select MP3, M4A (MPEG4 AAC), or WAV output format from the drop-down list. MP3 audio format is nearly universally supported by every portable HDD or flash player (Apple, Sony, iriver, SanDisk, Creative, Cowon, Samsung, Philips etc.) and mobile phone. M4A is an iPod, iPhone and iPad compatible audio format. WAV files are the best decision for burning to audio CD because the sound quality is lossless.

Encoder for video files
Encoder for video files lets you choose the output format for video files you need to convert and the desired video size. You can select iPod MPEG4 Video (MP4) or DivX Player Video (AVI). MP4 is an iPod, iPhone and iPad compatible video format. MP4 files can be also played on other HDD and Flash MP4 players. AVI files are used on home DVD players most frequently. To extract audio from video, choose MP3 or AAC encoder.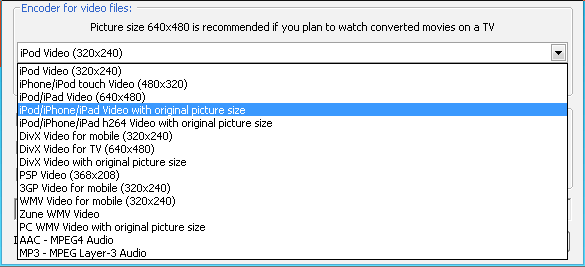 Compression Quality
You can choose a desired "Compression Quality" for MP3 and M4A files from the drop-down list. The highest compression quality is 320 kbps, but if you need to reduce the size of converted files – 170 kbps is the optimal value. In order to reduce the file size of the Аudio book it is better to choose 32-64 kbps.

Also there are 3 options of the compression quality for the video files.

Troubleshoot slider
SoundTaxi "Troubleshoot slider" eliminates certain types of conversion problems on certain PC's. If you have any problems with file conversion, try to move the slider to other position and run the conversion again. There are 4 troubleshooting positions available. You can switch to each position moving the slider step-by-step. The slider allows running conversion in safe mode on lower speed. In the result your files will be converted properly, but on lower conversion speed. Using the troubleshoot slider doesn't affect the conversion quality anyway.
Positions of the troubleshoot slider.
No troubleshooting – best performance mode

This is recommended level of system compatibility. SoundTaxi will work perfectly on most systems with compatibility level set to Best performance.

Reduced CPU load and lower conversion speed

In this mode, SoundTaxi will convert media files slower, but with potentially improved stability in the face of system compatibility issues.

One conversion at a time with lowest speed.

This mode will force SoundTaxi to convert one media file at a time at the lowest speed possible. If you're experiencing output quality issues, using this mode may fix them at the price of extremely low performance.

Use only trusted players

If you're experiencing severe conversion problems with protected media files, try using this mode to fix them at the expense of performance.

Use only trusted players with lowest speed

In case of severe conversion problems with protected media files, this mode will ensure very slow conversion with acceptable output quality.
Do not modify default settings unless you are having conversion problems.
Other Settings
If you mark "Show select files on startup", 'Select Files to Convert' window will be showed at once SoundTaxi starts.
If you mark "Start conversion automatically", the conversion process will start immediately after the files were selected.
"Advanced mode". If this field is marked, you will be able to play original and converted files in SoundTaxi window (appropriate buttons will be shown in SoundTaxi main window toolbar).