Record Audio from YouTube
From SoundTaxi
Introduction
Today the army of YouTube fans and users is growing up with incredible speed. Have you ever counted how many online videos you are watching every day? In addition YouTube provides a large selection of music clips that people prefer to download in MP3 or other audio format. But the majority of online videos are presented in Flash Video or flv format. Thanks to .flv file extension, highly compressed streaming video can be viewed from different web browsers. Moreover it allows quick video downloading and considerably preserves the disc space. That's why streaming video capture is not an easy thing without professional apps and softs. Fortunately, you can use the software that captures online video from YouTube as well as from many other websites. RipTiger is the best solution for you. This incredible program allows to record any video you want without quality loss and convert it to any popular video or audio format. So you can easily record audio from YouTube using our prize-winning software RipTiger.
How to record Audio from YouTube using RipTiger software?
Before start the downloading process please be sure that you are experiencing the latest RipTiger version. You can download it from this link. The latest program versions ensure the flawless program performance in accordance with the recent bug fixes and updates.
To record Audio from YouTube in an easy and prompt way please follow the guide below:
Step 1 Start RipTiger
Please double-click on RipTiger icon on your desktop and start the program.
Step 2 Open the desired video in web browser
Now find the video you are going to download form YouTube and open it in one of your web browsers. You can use Internet Explorer, Google Chrome or Mozilla FireFox.
Step 3 Automatic download
Start the video playback and RipTiger will capture it automatically. After the download has started you can close the browser if you need. Moreover you will be able to visit other websites without interrupting the video record.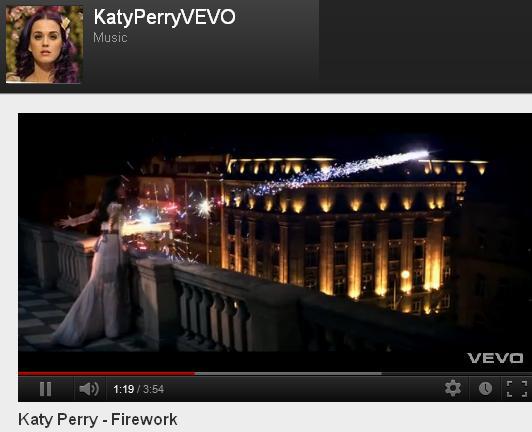 Step 4 Convert downloaded file to audio
To convert the downloaded files to audio please open RipTiger Settings and find 'Convert files to:'. Then choose MP3 Audio (mp3) from the drop-down list and close the settings window by clicking on 'OK'.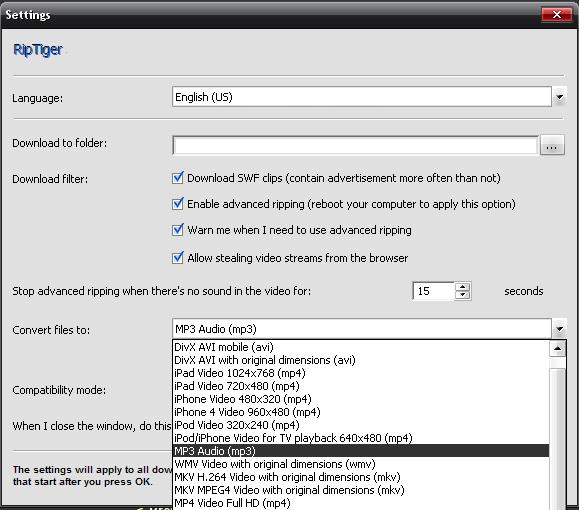 Now choose the file you want to convert in the main program window and click on 'Convert Video' button.

Where to find the downloaded and converted files?
First specify the folder where you want RipTiger to save all your downloaded and converted videos. Please find 'Settings' -> 'Download to folder' and choose any folder on your PC.

To access the downloaded and converted files in a simple and prompt way you need to click on 'My downloads' in the main program window.