RipTiger Settings
From SoundTaxi
Please configure RipTiger settings according to your needs before you start downloading and converting.
RipTiger Settings
To open RipTiger Settings please click "Settings" button in the program window.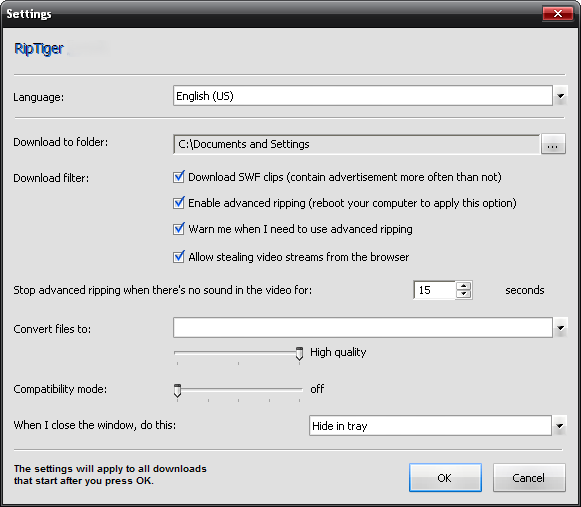 Language
There are 4 variants of Language you can choose.

Output folder
Specify a folder where you want RipTiger to save all your downloaded and converted videos.

Download filter

Download SWF clips. Specify if you want RipTiger to monitor and download SWF files. Some
SWF files contain video and presentation, but the vast majority contains advertisements. The option is unchecked by default.
Enable Advanced Ripping. An option for RipTiger Ultimate to enable or disable the Advanced
Video Ripping engine. Changing this option requires a reboot. You can learn more about this feature on page 2 under "Introduction to Advanced Video Ripping".
Output file format
Choose the format you want to convert your downloaded videos to.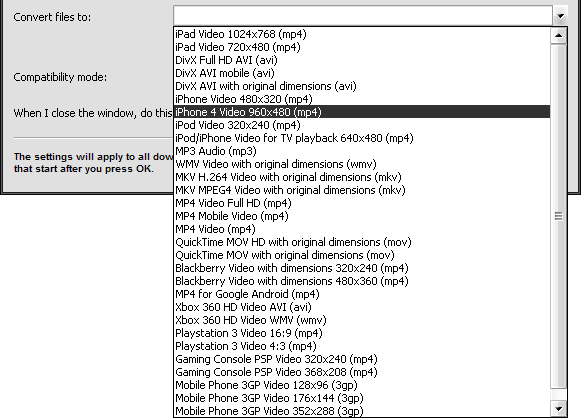 Quality settings
Also there are 3 options of the quality for the video files.



Compatibility mode
Use the default setting "OFF", unless otherwise recommended by the support team. This option is strictly for troubleshooting purposes.





Actions when you close the window

Note: The settings will apply to all downloads that start after you click "OK" in the settings window.