SoundTaxi Overview
From SoundTaxi
SoundTaxi is a powerful piece of software to convert almost any audio and video files, both protected and non-protected, to commonly used formats such as MP3, AAC, WAV audio, MPEG4, DivX video. SoundTaxi unprotects and converts songs and videos for use with any audio and video playing devices: iPod, iPhone, Zune, any portable HDD and Flash MP3, MP4 players (Sony, iriver, SanDisk, Creative, Cowon, Samsung, Philips and many others), home DVD players, CD players, car audio and video, mobile phones etc.
Before you start to use the program, we remind that SoundTaxi frees only the music and video you've purchased. So the main requirement is that you must be able to play your original files in Windows Media Player, QuickTime Player or Real Player on your PC (depending on the file format you're converting). As input files SoundTaxi supports practically any audio and video formats which can be played in Windows Media Player, QuickTime Player and Real Player.
If your original audio and video files contain information about artist name, album name, song name, genre, year – this information will be recorded in the converted files.
The trial (unregistered) version of SoundTaxi has a 90 seconds limitation. It means that without SoundTaxi activation your output audio files will be limited to 90 seconds duration and video files will be limited to 3 minutes. To convert your songs and videos completely, SoundTaxi must be activated with the license code (see "Activation" for more details). Unregistered version includes all features of SoundTaxi Pro+VideoRip edition e.g. maximum number of simultaneous conversions – 16 and maximum summary converting speed – 50X, audio CD Ripper, video conversion and YouTube Ripper plug-in. The trial version performs the highest conversion speed and as much simultaneous conversions as it's only possible on the PC where the program is installed.
SoundTaxi Professional and SoundTaxi Pro+VideoRip screenshots:
---
SoundTaxi Media Suite screenshot:
---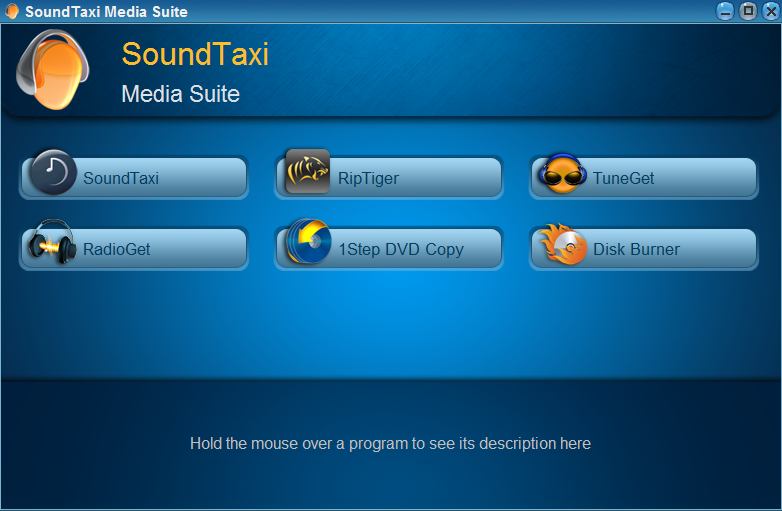 SoundTaxi Main features
very easy to use and install
converts any song that can be played with Media Player to MP3, AAC, WAV etc. for use with iPod, any other MP3 player, CD player, mobile phone or personal computer
unprotects practically all DRM audio and video files
unprotects and converts songs and movies for use with iPod, any other MP3 player, CD player, mobile phone or personal computer
converted songs and movies have NO DRM restriction anymore
batch mode for converting or unprotecting large song collections
allows to convert complete folder structures and recreates these structures on output
selectable compression level and output format
super fast conversion, up to 50x the playback speed in batch mode
can convert in HIFI and CD quality
See also