CD Ripper
From SoundTaxi
SoundTaxi installation includes easy to use audio CD Ripper.
SoundTaxi supports MP3, WAV and AAC as output formats for audio conversion. You can select the desired output format in SoundTaxi settings from "Encoder for audio files" drop-down list. It is also possible to choose the compression quality for MP3 and AAC files in SoundTaxi settings.
You can run SoundTaxi CD Ripper from your desktop by clicking on "SoundTaxi CDRipper" shortcut, from SoundTaxi working folder (by default it is C:\Converted folder) or from Start Menu.
To rip the desired audio CD, insert it to the drive and run SoundTaxi CD Ripper. Your CD tracks will be visible. Click "Rip" button on the main toolbar and wait until CD Ripper finishes its work. After that SoundTaxi will start automatically to convert ripped audio tracks to the desired format. After conversion finishes, your converted files will be stored in the output folder set in SoundTaxi settings.
SoundTaxi CD Ripper retrieves the CD information (artist name, album name, track names etc.) from Internet if available.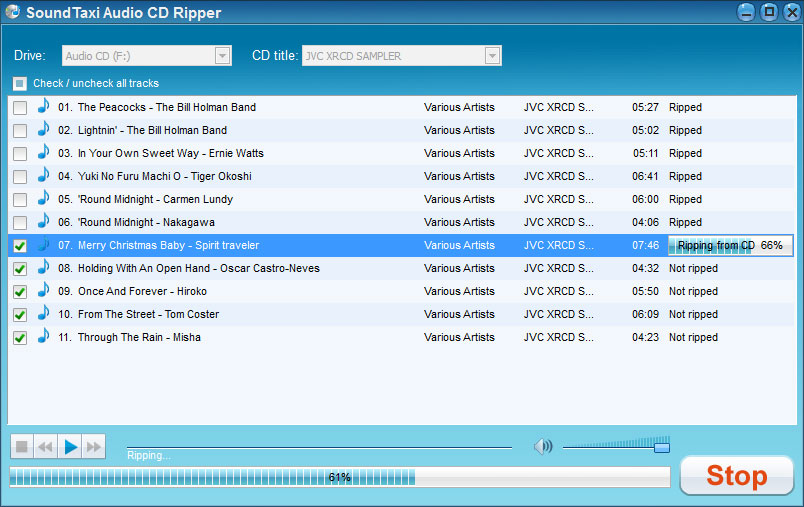 Please note, you need SoundTaxi Professional or SoundTaxi Pro+VideoRip edition activated to use audio CD Ripper.